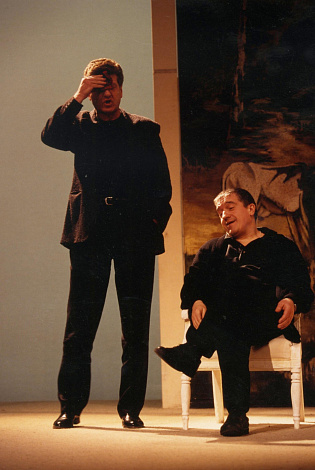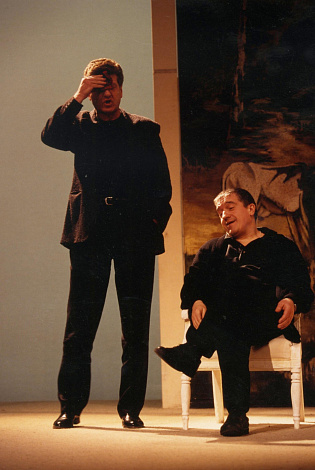 | | |
| --- | --- |
| Translated: | By Elena Naumova |
| Directed: | By Patrice Kerbrat |
| Designed: | By Eduard Laug |
| Cast: | Mikhail Yanushkevich (Serge), Igor Kostalevsky (Mark), Mikhail Filippov (Ivan) |
The first premiere of Art took place in Paris, where in October 1994 it opened at the Comedie de Champs-Elysees. For a year and a half after that it remained in the repertory of the theatre as one of its most popular performances. For another year and a half afterwards, the production toured in France, Belgium and Switzerland. Its playbills featured the names of well-known theatre and cinema actors: Pierre Arditi, Pierre Vaneck and Fabrice Lukini, who was replaced by Jean-Louis Trintignant during the tour. The production received the Moliere prize in two nominations - as the best dramatization and the best pri­vate company production. The play has been successfully staged in the USA, England, Germany, Israel and Belgium, and it has now been for the first time produced in Russia.
Yasmina Reza's very first play, Conversations after the Funeral, brought her recognition: she was awarded a 'Moliere' as the best play­wright. Her next plays, A Passage through Winter and A Man of Chance, were also quite successful, but it was with Art that she received international fame: another 'Moliere', followed by the British 'Best Comedy of the Year' and the Laurence Olivier awards. Patrice Kerbrat is a well-known French actor and director. After graduation from the French School of Dramatic Art, he joined the Comedie Francaise. Later, upon leaving that Alma Mater of the French theatre, Kerbrat fully devoted himself to directing and producing contemporary drama, and so far has been greatly successful along these lines. His productions of Reza's Conversations after the Funeral, A Passage through Winter and Art have earned him the reputation of a first- class director of modern plays. For the direction of Art Kerbrat was awarded a 'Moliere' as the best director of the year.
Performance gallery
4 photo