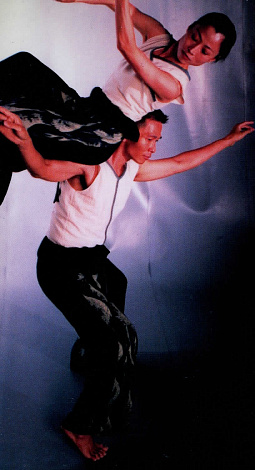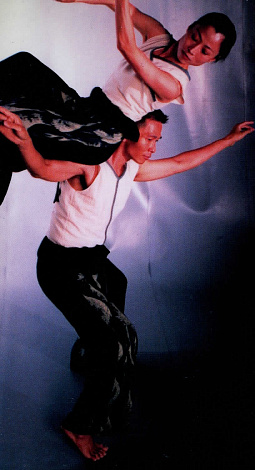 | | |
| --- | --- |
| Cast | Shi Dji-Tse, Chien Shu Tchu, Chen Yang Wei, Hung Ing Fen, Lu Yu Tzu, Tseng I Chuang |
Shi Dju-Tse is the founder and general director of the physical theatre Ekmi. Before that he worked as a teacher of an elementary school and street portraitist. Inspired by the production of Maurice Bejart ('Sacred Spring'), he began to study dance. In 1997 he founded the theatre Ekmi. Productions: 'Three Dynamics', 'The Square', 'Pure Earth', 'The Millenium Ritual', 'The Sand-Glass', 'Imaginations of Bach', 'Classical Style', 'Feel and Answer', etc. In 1998 he studied choreography at the University of Connecticut (USA). He worked as teacher and guest dancer at many dance schools in Taiwan and abroad: at the university of Tungai, the Hsinchu Normal Institute, the University of Connecticut, the University of Utah, the University of Bryan Yoiung, the Weber University, the dance faculty of the Jordanian High School etc. He is the winner of various prizes for modern choreography. The Taiwan magazine Performing Arts Review has named Shi Dji Tse a 'choreographer who draws by means of the human body'.
We hope to see talent in future performances ... distinguished by energy and splashing dynamics. To see a stimulating and bewitching rhythm. A successful connection of Chinese martial arts and West-European dance techniques
Performing Arts Review
Performing Arts Review The physical theatre Аkmе was created in 1997. The theatre is the first professional troupe of modern dance Taichung, Taiwan and continues to remain the most representative troupe of modern dance of Central Taiwan. According to the responses of the Taiwan press the productions of Ekmi have led to the creation of a new dance language in the East. The theatre is a regular participant of various international theatrel festivals.