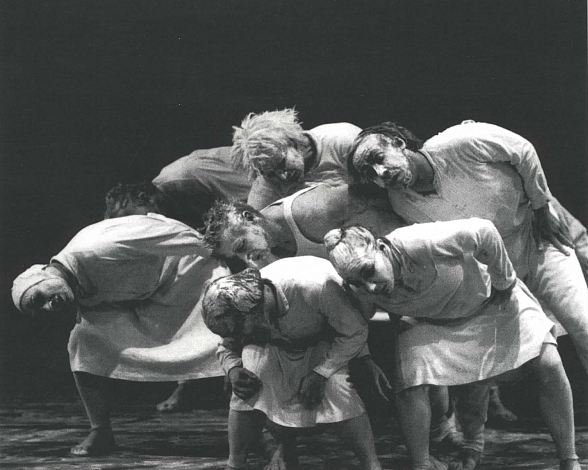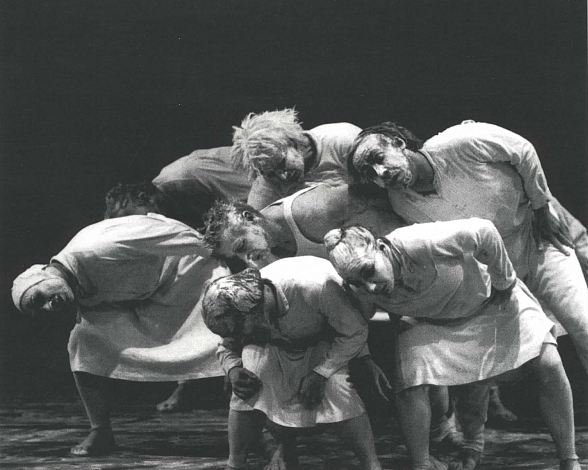 | | |
| --- | --- |
| Choreography: | Maguy Marin |
| Music: | Franz Schubert, Gilles De Binche, Gavin Bryars |
«MAY В» is the crowning achievement in pursuit of this end. First performed to raving audiences in 1981, «MAY В» has been for fifteen years played over 350 times across the world with invariable success. «MAY В» ranked Maguy Marin among such outstanding choreographers as Mafy Wigman, Martha Graham, Pina Bausch.
«MAY В» is halfway between theatre and dance. It mercilessly submerges us into the lower depths of absurdity. But like in Becket's plays there is light of hope, shining in this abyss... The grotesque ball of lust, attended by elderly couples, and the journey along the vicious circle of the endless procession of ants are the strongest moments of this masterpiece.
Liberacion:
Characters in «MAY В» are sadly ridiculous. They have crooked or flat noses, goggled eyes, grinning mouths, gaping like black holes on the green-pale faces. Dressed in white rags, they move on stages, raising clouds of foul smelling rice flour, reminding us of that clay dust out of which the man emerged to drag his transitory existence.
Marcelles Michel, Le Monde:
Russia is the thirtieth country of the world, introduced to the art of Maguy Marin. Wherever her productions are shown they invariably enjoy enormous success with the audience. These productions are astounding in perception of the happenings of modern life, their humor is disarming, their anti-aestheticism is shocking and at the same time captivating. These works don't lend themselves to classification in terms of genres. Besides dance, they comprise elements of mime and dramatic performance. All these diverse media of expression pursue one and the same end: to present the primordial innocence and nakedness of man, set against the bustle and fury of the world around him.