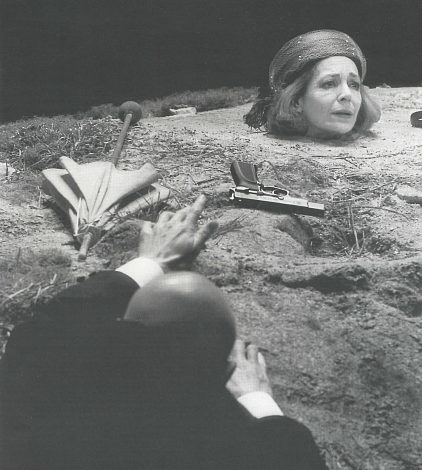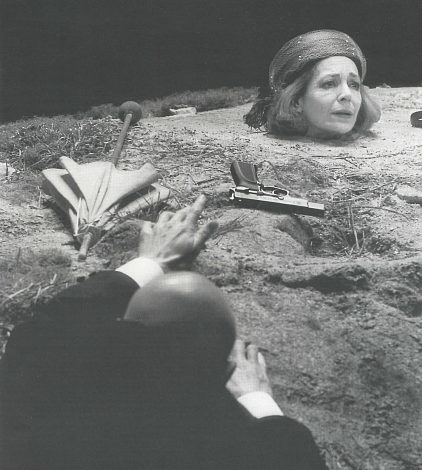 | | |
| --- | --- |
| Directed: | by Peter Brook |
| Sets and costumes: | Chloe Obolenski |
| Performed: | by Natasha Parry, Francois Berthet |
From Peter Brook's interview with Alexander Demido:
— What is Beckett's theatre?
— There are many good authors, but very few transcend the boundaries of their time, society, their own psyche. Such writers are rare both in drama and in literature, the latter being mysteriously dominated by Dostoevski. In drama Beckett is one of the key names, his vision being the vision of musician, poet, artist and director. Beckett requires no directorial interference, for his stage directions are perfectly precise and appropriate. Any changes would inevitably result in disrupting the architectural concept.
— So what was your work then?
— It was confined to reconstructing the life that is found behind all this. In theatre I care only for one thing: translation of life into the language of theatre. I am not interested in the form per se. And with Beckett respect for the form doesn't mean placing yourself within a rigid frame. On the contrary, it is walking on a tight-горе toward the indefinable qualify.
— What can you say about «Oh les beaux jours»?
— In the English version the key elements of the play are affection and irony. The woman in the play is very vulgar, her language is harsh and slangish. The French version is much more pure, musical, artless and delicate, which is more consonant with the feeling that Beckett wanted to convey. Much has been said about Beckett's pessimism. But Beckett wanted spectators to leave the performance with the positive feeling.
— Beckett's play contains a wealth of directions of how to perform. Were they a brake in your work?
— Not at all. Beckett's text is exceptionally musical, it has leit-motivs and pauses. I felt myself like ass musician before an opened score who is required to strictly follow the instructions of the author. My work with actors consisted of discovering the viability of this text without caring about the movements of characters on stage. Beckett had taken care of everything.