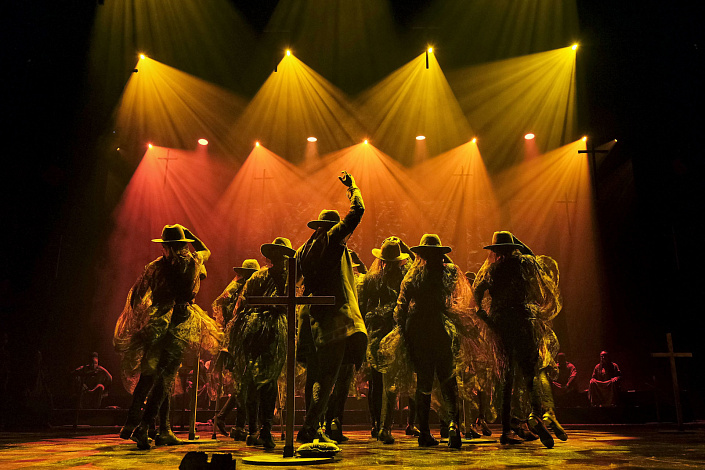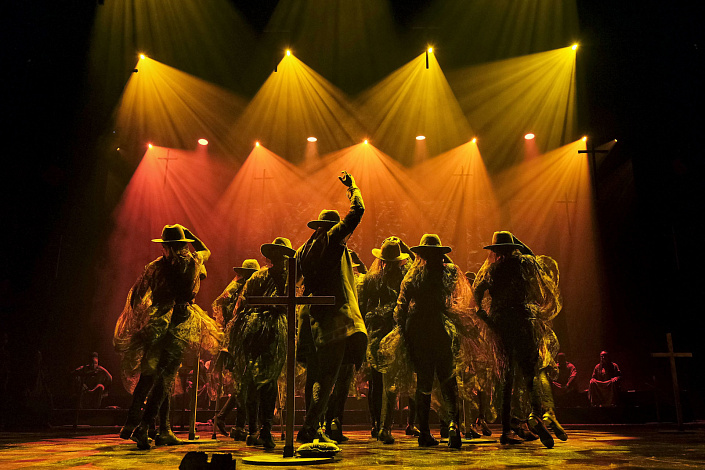 Vuyani Dance Theatre (RSA)

Choreographer – Gregory Vuyani Maqoma
Arguably the most popular musical work of the 20th century, Maurice Ravel's Bolero, gets a performance every 15 minutes. Considering the length of this symphonic piece, one can say that in various forms – from concerts to advertisements and soundtracks – it has sounded practically non-stop for over ninety years. The monotonous recurring melody is so haunting that Bolero is often described as a séance of musical hypnosis.
In this production the South African choreographer Gregory Maqoma drew inspiration from two sources. Hypnotic magic was provided by Bolero, wherein the director heard, among other things, an analogy with the ritual mourning rhythms of his homeland. The other source was the work of the acclaimed South African writer Zakes Mda. From his novel Cion were borrowed the first part of the title and the main character, professional mourner Toloqi. But instead of telling a story, Maqoma has created a requiem in dancing. Our universe of greed and injustice has turned us all into professional mourners. But in their very grief, as the director believes, people get a better chance for unity.
The endless orchestral crescendo of the French composer was rearranged in the South African style of Isicathamiya, a form of a cappella singing. A blend of Western and South African cultural influences imparts a universally human spirit to this story.
«We are going through unimaginable tragedies, we live in times which I can describe as a "posthuman age". More than ever before, we need to dance in order to remind the world that mankind still exists…». .
Gregory Maqoma
Gregory Maqoma is the leading figure in contemporary South African dance. His company, the Vuyani Dance Theatre, has recently marked its 20th anniversary.
Performance gallery
7 photo