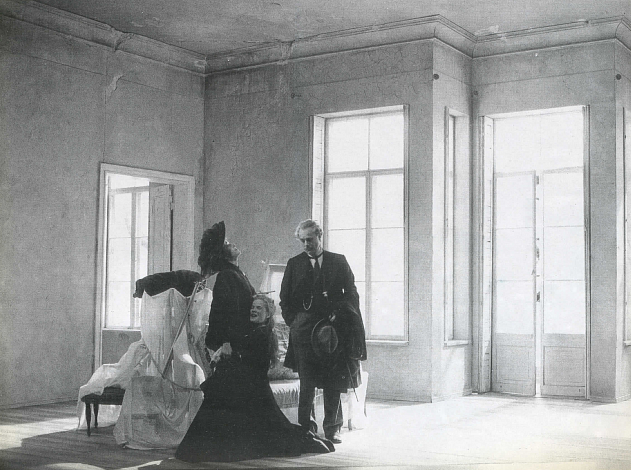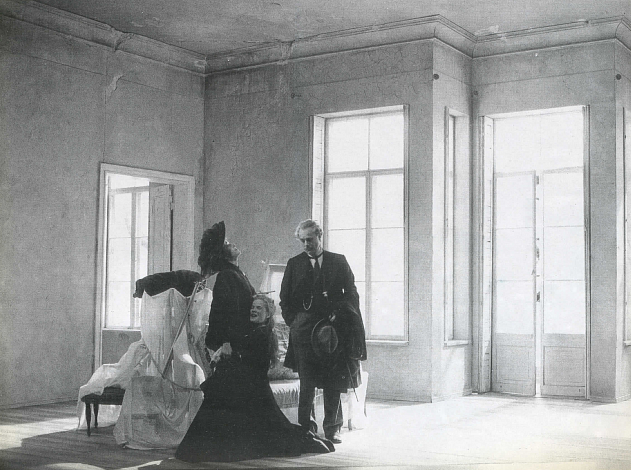 | | |
| --- | --- |
| Director: | Peter Stein |
| Sets: | Christophe Schubiger |
| Costumes: | Moidele Bickel |
| Script Department: | Dieter Sturm |
| Music: | Peter Fischer |
| Assistant director: | Klaus Metzger |
| Choreographers: | Karl Heinz Taubert Jorg Schmalz |
COMEDY IN FOUR ACTS
GERMAN VERSION BY GUDRUN DUVEL AND PETER STEIN
Premiered june 15, 1989. Reconstructed January 16, 1991
"The Cherry Orchard" is Peter Stem's second production of Chekhov. Moscow audiences were able to see his "The Three Sisters" and no doubt highly acclaimed the talent and craft, subtlety and intuition of the German director, as well as his most careful and profound treatment of Chekhov.
Lately, directors across the world have been increasingly often turning to Chekhov's plays, and in many cases they choose the last play of the great Russian writer, "The Cherry Orchard", discerning new ideas and fresh revelations about human nature, meaning and meaninglessness of life in this old and familiar play. Stein's interpretation holds an esteemed place among the most distinguished European stagings of Chekhov along with the works of Peter Brook and Georgio Strehler.
Stein is an imaginative director, subtle psychologist and keen historian. He is able to combine the rationalism of social scholar and emotions of poet, as proved by both "The Three Sisters" and "The Cherry Orchard". He escapes any sentimentality and at the same time he is deeply concerned about his characters. In Stein's interpretation Chekhov always shows a different face. And we are always aware that no matter how precise and meticulous the directorial solutions may be, Chekhov will never be completely understood.
Stein's production reflects a wide range of theatrical and philosophic concepts, but its main virtue is unique vitality of performance. Stein's complex and multifarious directial style defies unambiguous interpretations. There is always a mystery about his Chekhovian stagings, which is also true of Chekhov's plays, and especially of "The Cherry Orchard."